"Opening up about relationships" – a panel discussion on 18 April 2019
Tue 16th April 2019
I have been invited to take part in a panel discussion about open and monogamous relationships.
The event is organised by the Institute of OM. More on their work can be seen here.
The promotional material is below. It should be an engaging and interesting evening and there will be a follow-up blog post.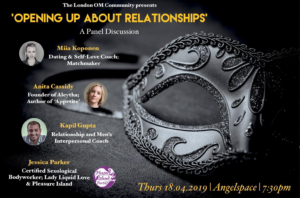 Do your relationships reflect who you are and what you really want?
** Can long-term relationships remain both physically satisfying and emotionally fulfilling?**
**Is monogamy better than polyamory?**
**Can jealousy in partnership be used for personal development?**
Join the London OM Community and 4 relationship specialists to explore these questions and more in 'Opening up about relationships.'
Get your **'Do-it-in-connection'** tickets (buy one, get one half price) HERE 
From Funzing:
Every month, the London OM community hosts a panel of experts on topics that relate to sexuality, relationships, and connection.
In April, our panel is all about different types of relationships!
Is monogamy a higher-level practice than polyamory?
Is sex without love ethical?
Is the new hook-up culture undermining connected, committed relationships?
How can long-term relationships be sexually satisfying and emotionally fulfilling?
Can jealousy in open relationships be used for personal development?
Our panellists will tackle these questions and many others at 'Opening up about relationships!' on Thursday April 18th at 7:30pm, Angelspace
Experience includes:
An exploration of how to have more satisfying and pleasurable relationships
Guidance on how to ask for what you want and need in relationships
An understanding of what it takes to craft relationships based on your own values and desires
Greater clarity on different types of relationship structures